Have you ever seen your favorite youtube using a dual monitor setup to edit those video? or wanted to plug-in dual screens for a more immersive gaming experience? Then worry no more, you are in the right place. In this post, I'll show you how to use a dual screen setup on windows 10.
What things do you need for dual screen setup?
All you need for this is a laptop and a monitor. The monitor can support any of the connection medium-VGA, HDMI or Thunderbolt. The screen size doesn't matter but a higher resolution monitor would perform best if your laptop has a powerful graphics card.

Lets set it up
Step 1: Connect your monitor to the windows laptop.
Step 2: Go to your laptop and press windows key+p. The project dialog box will pop-up on the right.
Step 3: You'll see 4 options on the list. By default, generally, it will be set to duplicate. Change that to extend.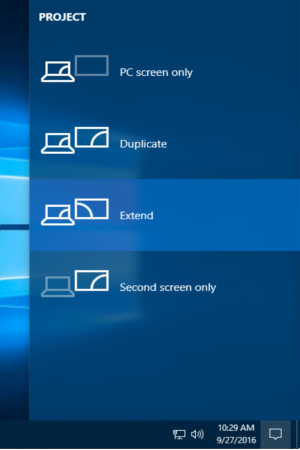 By this point, you are already done with your dual screen setup on your windows 10 laptop. Hereafter, you can go to the settings to customize the setup according to your needs. Also read Top 5 Android Keyboard Apps In 2019
Step 4: Go to windows>setting>system>display. Here you'll see two rectangles labeled 1 and two. The box labeled one is your primary screen (laptop screen) and the one labeled 2 is your connected monitor. You can click and drag your primary screen to the right or left according to your physical setup. You can even change your primary display by right-clicking on the rectangles.
That's it! Congratulations on your first dual monitor setup. If the monitor that you've connected supports connection to multiple monitors, you can add more monitors in the same way. You can also directly connect another monitor to your laptop if it has more than to display ports.
Also read How To Enable Google Chrome Dark Mode On Windows?